Mega Star Chiranjeevi Tests Positive For Covid -19
Telugu megastar Chiranjeevi on Monday announced that he has tested positive for Coronavirus. The 65-year-old actor said that he did a Covid-19 test as part of the safety protocol before joining the sets of his upcoming movie Acharya.
"I am currently asymptomatic & quarantining myself at home. Request all those who met me in the last 5 few days to also undergo covid tests. Will update you on my recovery soon," he said in a letter to fans and the media.
ఆచార్య షూటింగ్ ప్రారంభించాలని,కోవిడ్ టెస్ట్ చేయించుకున్నాను. రిజల్ట్ పాజిటివ్. నాకు ఎలాంటి కోవిడ్ లక్షణాలు లేవు.వెంటనే  హోమ్ క్వారంటైన్ అయ్యాను.గత 4-5 రోజులుగా నన్ను కలిసినవారందరిని టెస్ట్ చేయించుకోవాలిసిందిగా కోరుతున్నాను.ఎప్పటికప్పుడు నా ఆరోగ్య పరిస్థితిని మీకు తెలియచేస్తాను.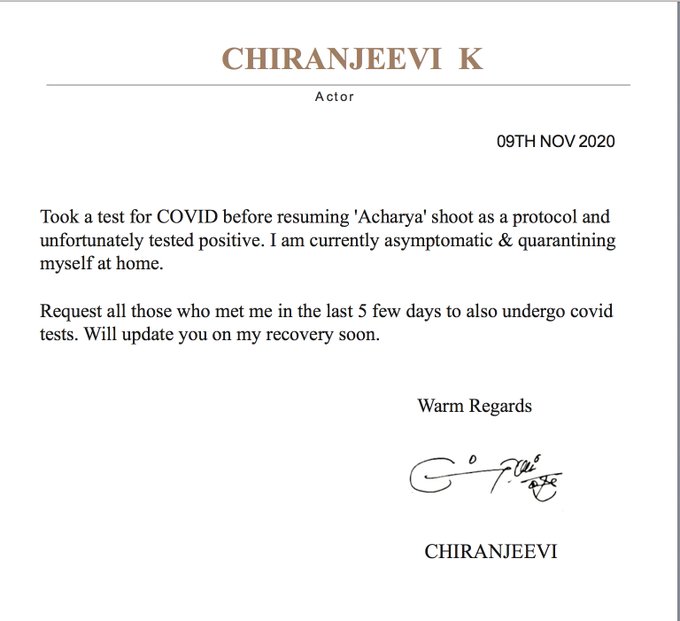 It is worth noting that Chiranjeevi along with Nagarjuna on Saturday met Telangana Chief Minister K Chandrashekar Rao at Pragathi Bhavan to discuss issues facing the Telugu film industry. The meeting was held to discuss the initiatives of the Telangana government to restart the business of cinema in the state, which took a massive beating due to the outbreak of coronavirus.
Chiranjeevi and Nagarjuna also discussed the government's proposal to set up a new film city at the outskirts of Hyderabad. Roads & Buildings Minister Vemula Prashanth Reddy, State Planning Board Vice Chairman B Vinod Kumar, RS Member J Santosh Kumar, Government's Chief Advisor Rajiv Sharma, Chief Secretary Somesh Kumar, principal secretaries Narsing Rao, Ramakrishna Rao and Seshadri were among those who took part in the meeting chaired by the Chief Minister.